Hollywood – $10

T-Zone – $40

Full Face – $70

Eye Brows – $20

Sideburns – $15

Full Lips – $10

Nostrils Only – $5
Chin – $10

Full Arm – $45

Fingers or Toes – $10
Benefits of Waxing
Skin health
In addition to hair removal, waxing acts as a physical exfoliation that removes dead skin cells, meaning you're receiving hair removal and mechanical exfoliation at the same time.
Smoother skin
After your wax, you'll probably find that your skin is smoother than it's ever been.
Longer-lasting results
When hair is removed at the root, it takes much longer to grow back than with shaving.
Thinner and finer hair
When your hair does grow back after waxing, you'll notice it grows back finer and softer. Win-win!
Minimal irritation
Many people find hair removal methods like shaving and depilatory creams irritating to the skin. However, waxing rarely causes this problem if it's done by a licensed professional.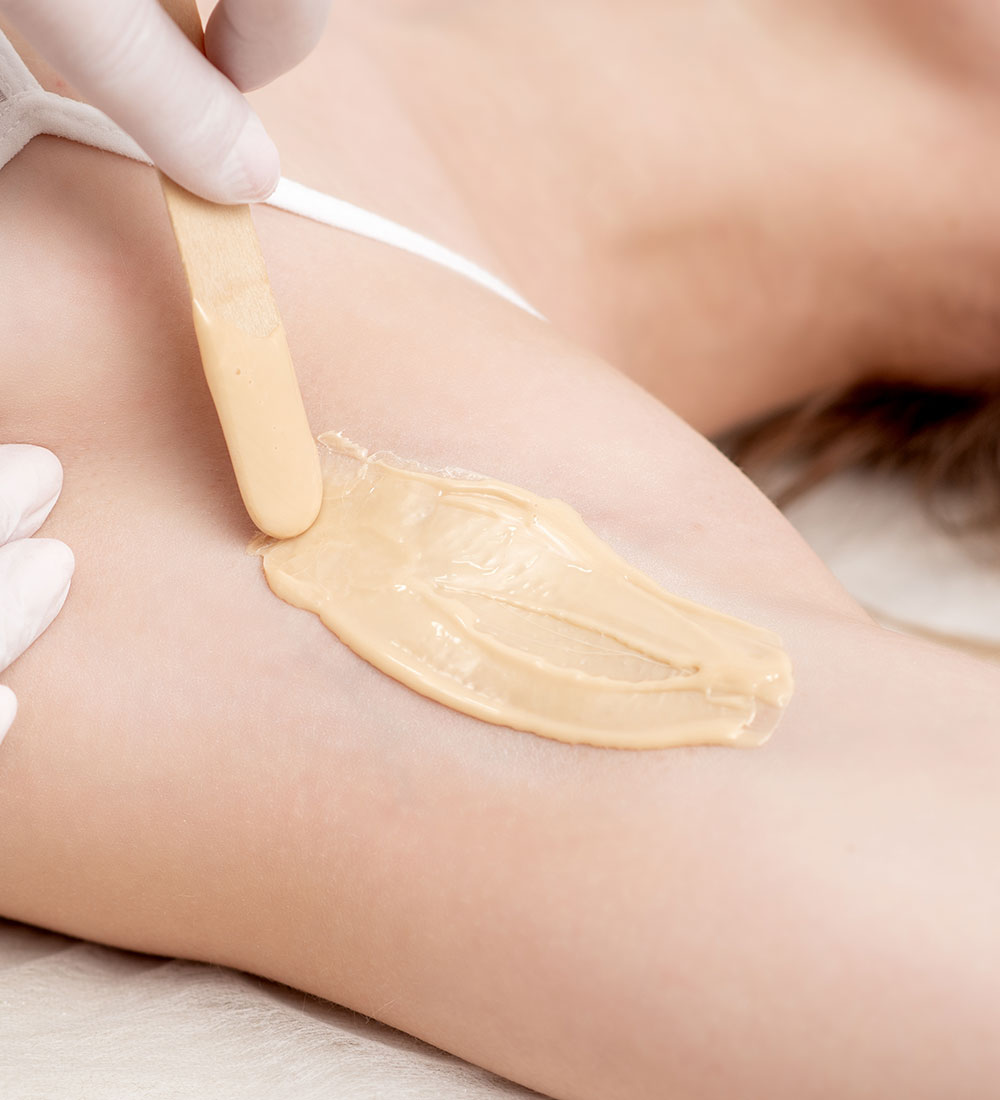 Post-Wax Care
After your first Bikini or Brazilian wax
Your first bikini wax will remove the majority of hair that's grown above the skin. Because they grow in different cycles, hairs that were growing below the skin's surface during your first wax will be removed during your next few waxes.
After three to four waxes, all hairs should be growing in the same cycle, which means longer-lasting results for you!
Consistency pays off
After your first bikini wax , every following wax gets easier and easier (as long as you don't shave!)
If you shave, the next bikini wax will probably feel just like the first. And shaving between waxes can cause itching, or worse… ingrown hairs. So put down that razor!
Tanning after bikini waxing?
Sure, sun-kissed skin looks amazing, but you should wait 24 to 48 hours after a wax before hopping out in the sun.
Freshly waxed skin is more prone to sun damage if exposed too soon. If you must go in the sun, be sure to thoroughly apply sunscreen to the waxed area.
How long should hair be for my next bikini wax?
Our recommendation is that your hair should be at least a ¼ inch long but no longer than a ½ inch.
Usually your bikini wax will last for 3 -4 weeks, though everyone's rate of re-growth is different. But with the right after wax care you can help keep your skin smoother, longer. Just ask your wax specialist to point you in the right direction or hop over to the body treatments page and check out vajacial.
Sex after bikini waxing?
Our advice is to wait 24 to 48 hours so your skin has time to heal and hair follicles can close. Doing so will prevent any further skin irritation.
Just how painful is a bikini wax?
Well, it sort of depends on your mindset, your general tolerance for discomfort, and whether or not you stay on schedule.
Everyone's different, but top magazines and beauty reviewers have said waxing for hair removal is minimally to virtually painless.  Following your bikini wax, your Wax Specialist will provide you with some post-wax home care tips.
Do's & Don'ts
Do's
Relax. Breathe. Find your happy place. Think about a basket full of kittens. Pretend you're on a beach sipping a Mai Tai. The more relaxed you are, the better your waxing experience will be.
Tell your Wax Specialist about any medications you're taking, like antibiotics, accutane, or topical creams like Retin-a, which might not be compatible with waxing.
Wear comfortable cotton underwear to avoid irritation if it's your first time receiving a bikini wax.
Don'ts
Tan the area you plan to wax 24 to 48 hours before reservation.
Consume alcohol or significant amounts of caffeine before your wax. Both can cause pores to tighten, which could make for a more uncomfortable experience.
Use any numbing creams. Sorry to be the bearer of bad news, but they don't actually penetrate the skin.
"Beautiful skin requires a commitment,
not a miracle."